Mustaches in Sports: Part 2
Mustaches in Sports: Part 2
November 5, 2017 | Richard Creeger
For Part 2 of our series, we are honoring those who have worn the mustache proud on the pitching mound, in the batters box and even sitting in the bullpen. These are our baseball players who made the list.
Baseball: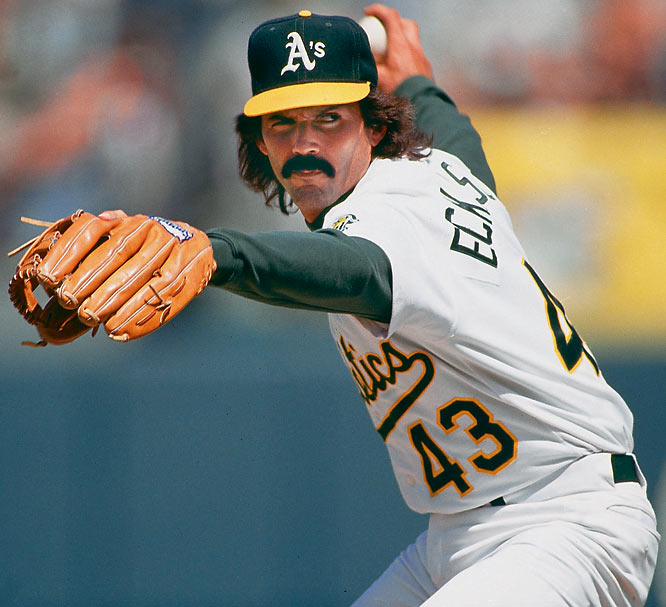 Dennis Eckersley: Eckersley makes our list as one of three baseball players. Living with an A's fan for a year, I had to endure learning about this organization and the players for too long (sorry A's fans. I still love Moneyball). While pitching with the A's, Eckersley established himself as one of the most dominant closers of his time. In 1988, he recorded a league leading 45 saves that year, recorded all 4 saves against the Red Sox in the ALCS to help send the A's to the World Series. Unfortunately, he may most notably be known for being the pitcher who gave up a walk-off home run to Kirk Gibson which helped lead the Dodgers to the title. Don't worry A's fans, you swept the Giants the next year to secure your World Series. And during that time, Eckersley secured his place in our Mustache Athlete Hall of Fame.
Randy Johnson:
Johnson makes our list as our second baseball player, but possibly number 1 in my heart (huge Diamondbacks fan). During his time in Seattle, Houston and even Arizona, Johnson had no shame in rocking his facial hair while on the mound. Other than destroying hitters with his nasty slider, Johnson was known for dominating photos with his amazing mustache. While in Arizona, Johnson was a 5x All-Star, World Series champion and World Series Co-MVP (2001). He won 4 straight Cy Young awards ('99-'02) and lead the league in strikeouts 5 times. One of his most famous accomplishments came on May 18, 2004 when Johnson threw a Perfect Game against the Atlanta Braves. And yes, he was rocking his classic mustache during that game.
Honorable Mention- Rollie Fingers:
Rollie Fingers could go down in baseball history as having the best mustache of all time (which is exactly why he made this list). A 7x All-Star, 3x World Champion, 1981 AL MVP and 1974 World Series MVP, Fingers has the resume to back up anything he wanted to wear on his face during his time pitching. Oh and lest not forget he has his #34 retired by both the Oakland Athletics and the Milwaukee Brewers. The best part? He still wears his mustache to this day. A man that proud of the fur he has on his upper lip deserves to be on this list any day of the week.
Honorable Mention- Andrew Chafin:
Yes, he was a Diamondback. But that's not why he is here. That is a flawless mustache and he wore it proud. He deserves to be on our list.
More Stache Life Articles
Upcoming Events